A MUST SEE!
There is so much to discover in Innsbruck's old town: the late medieval capital of Emperor Maximilian I (Golden Roof, Hofkirche), the rococo city of Empress Maria-Theresa (Imperial Hofburg, Helblinghaus, St. James Cathedral, Wilten Basilica), the oldest Museum of the World (Ambras Castle) or the Olympic sites of modern winter sports (Berg-Isel-Junp), all of these are really important sites and each and every one of them is worth a trip. The hop-on hop-off bus gives you a good overview and it also takes you to Ambras Castle, the Berg-Isel-Schanze and the Tirol Panorama. Take the Nordkettenbahn lift directly from the city center to dizzying heights, to the Seegrube and the Hafelekar. A view awaits you that you will never forget!

You shouldn't miss the Swarovski Crystal Worlds.
World famous & wonderful: The Swarovski Crystal Worlds, only 20 kilometers east of Innsbruck. The mystical masterpiece is the largest of its kind in the world! A free shuttle bus will take you there, or you can drive your own car and visit the enchanting town of Hall with the famous mint tower on the way!
learn more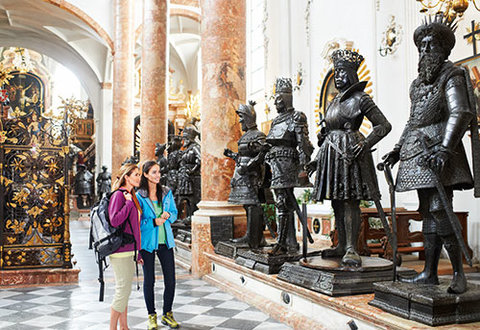 Important sites and museums:
Alpenzoo
Kaiserliche Hofburg
Museum Golden Roof (Exhibition Maximilian I.)
City Tower
City Archice/City Museum Innsbruck
Hofkirche
Tirolean Folk Art Museum
Tyrolean Regional Museum Ferdinandeum
Museum Zeughaus
Taxispalais Art Room Tyrol
Olympic Jump Bergisel
Basilica Wilten and Monastry Church Wilten
Bell Museum Grassmayr
Rail Museum Tiroler Museumsbahnen
Castle Ambras Innsbruck
Audioversum Science Center
Castle Hasegg /Mint Tower Hall
Swarovski Kristallwelten (Shuttle bus) (free entry)