Introductory offer
from Arpril to June and September to November
From 3 nights only € 60
per person per night
Innsbruck
from April to June and from September to November
3 nights at the price of € 325
per person
Biker-Angebot
April bis Juni und September bis November
Genießen Sie einen ruhigen und gemütlichen Abend und eine kühle Nachtruhe. Das Hotel Seelos bietet alles, was ein Biker-Herz höher schlagen lässt:
Restaurant, Bar, Terrasse und einen sehr großen hotel-eigenen Parkplatz vor dem Haus.
ab € 60 pro Person
Langlauf pur für Anfänger und leicht Fortgeshrittene
Von Sonntag bis Freitag
ab € 640,00 im Doppelzimmer Komfort (Aufpreis bei höheren Kategorien)
Zzgl. Ortstaxe € 2,80 pro Person und Nacht.
Für Einzelzimmer wird 20 % Zuschlag verrechnet.
Staggering panoramic view
over the rooftops of Seefeld
On your holidays in the Tyrolean mountains things should be handled less formal, more casual? You will enjoy the warm hospitality all the more and you will feel the kindlyness. No amenity or comfort you will have to forgo: accomodating hositability for a relaxed and comfortable vacation - simply a good feeling.
Very welcome to the Hotel Seelos****
the Hotel Seelos Team
Let us show you how beautiful Seefeld really is
We can give the best tips for excursions and if you ask, we might have also one or two insider tips. However, the village of Seefeld and its suroundings are also nice to be discovered by yourselves. And afterwards we will treat you in our hotel so that your stay will be a real restorative vacation. The Hotel Seelos also warmly welcomes dog owners with their quadrupeds.
For any questions or special requests, do not hestitate to contact us. We gladly will submit you an offer for your preferred space of time.
learn more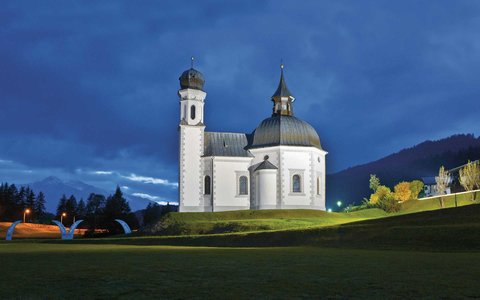 Cancellation conditions
Our cancellation conditions in the Summer Season are:
Free cancellation possible up to 3 days before arrival;
within the last 3 days before arrival 100% of the arrangement price.
Our cancellation conditions from December 21, 2021 are:
Free cancellation possible up to 14 days before arrival;
up to 1 week before arrival 70% of the arrangement price;
in the last week before arrival 90% of the arrangement price.
If the Austrian state border is closed due to Covid-19 or the hotel or Seefeld is under quarantine, free cancellation is possible.
In order to offer you a carefree and plannable holiday with a special level of security, we ask you to take out cancellation insurance that covers cancellation in the event of infection, illness, quarantine, etc. (on your part). We recommend European travel insurance.
As our guest, you have the opportunity to be tested in Seefeld before you return home. The results are available after 12 hours at the latest.
---
Advantages of booking directly with us:
Price advantage compared to platform booking
5% loyalty bonus from your 3rd stay onwards
A stay in Seefeld has its charm in every season!